It's Time for a Local TV Currency Change
Local TV broadcasters and buyers are finally moving to an impression-based vs. ratings-based currency in order to place Local TV on a playing field comparable to other video and digital channels. Viewing audiences have actually always been measured on impressions, and this evolution does not represent a fundamental change. What is changing is the transaction currency for those impressions — now transacted on a cost-per-thousand (CPM) rather than a cost-per-point (CPP) used when the impressions were converted to rating points. The pace of this evolution was accelerated to accommodate Nielsen's upcoming integration of broadband-only (BBO) homes into its local samples and universes – originally slated to become the standard for most local markets on April 1st, but recently delayed by Nielsen to October 2021.
While rating points typically rounded Local TV viewing audiences to the nearest tenth of a percentage point, leaving some viewers on the sidelines, and were held to Nielsen's minimum reporting standards,  impressions account for all viewers and allow for more precise reporting of Local TV audience delivery and performance as well as post-buy evaluation. 
In the past, ratings could easily be converted to impressions, but the nature of rounding and reporting minimums often under-represented the total number of impressions, and the recent addition of Nielsen's BBO homes is affecting the local market universes. Early estimates indicate that the shift from ratings to impressions and the addition of BBO homes adds anywhere from 5%-20% of viewers depending on the daypart. Interestingly, while local market universes will increase, ratings will likely see an overall decline because of proportionately less Local TV viewing in BBO homes.
The shift to impressions not only enables sellers and buyers to count all viewers on screens, it helps to simplify cross-platform comparisons and include Local TV in those solutions. Using impressions as the currency for Local TV, buyers and brands can now plan holistically across platforms and screens.
Moving to impressions will also help buyers to consider automated TV platforms and processes common in digital platforms, and further efforts to use audience data across platforms. 
This change doesn't reflect a change in the way viewers are watching Local TV. Instead, it reflects the desire for sellers, brands and agencies like True Media to transact in a currency more similar to the majority of other channels, as well as positioning Local TV as an integral part of the evolving video landscape.
Time Spent with Media Still on the Rise
As we have all seen over the course of the past year, the pandemic and subsequent stay-at-home orders and work-from-home opportunities accelerated the pace of change in consumer media habits.
Overall, Americans ended up spending 13:38 daily watching screens, listening to audio content, or reading traditional print news in 2020, an increase in time spent of almost 9% according to eMarketer. Digital was the biggest gainer, with 15% increase in time spent, followed by TV's 3.4% increase. Despite the fear of a precipitous drop in Radio listening due to fewer commuters, time spent with the channel dropped only 7 minutes per day, or 7%.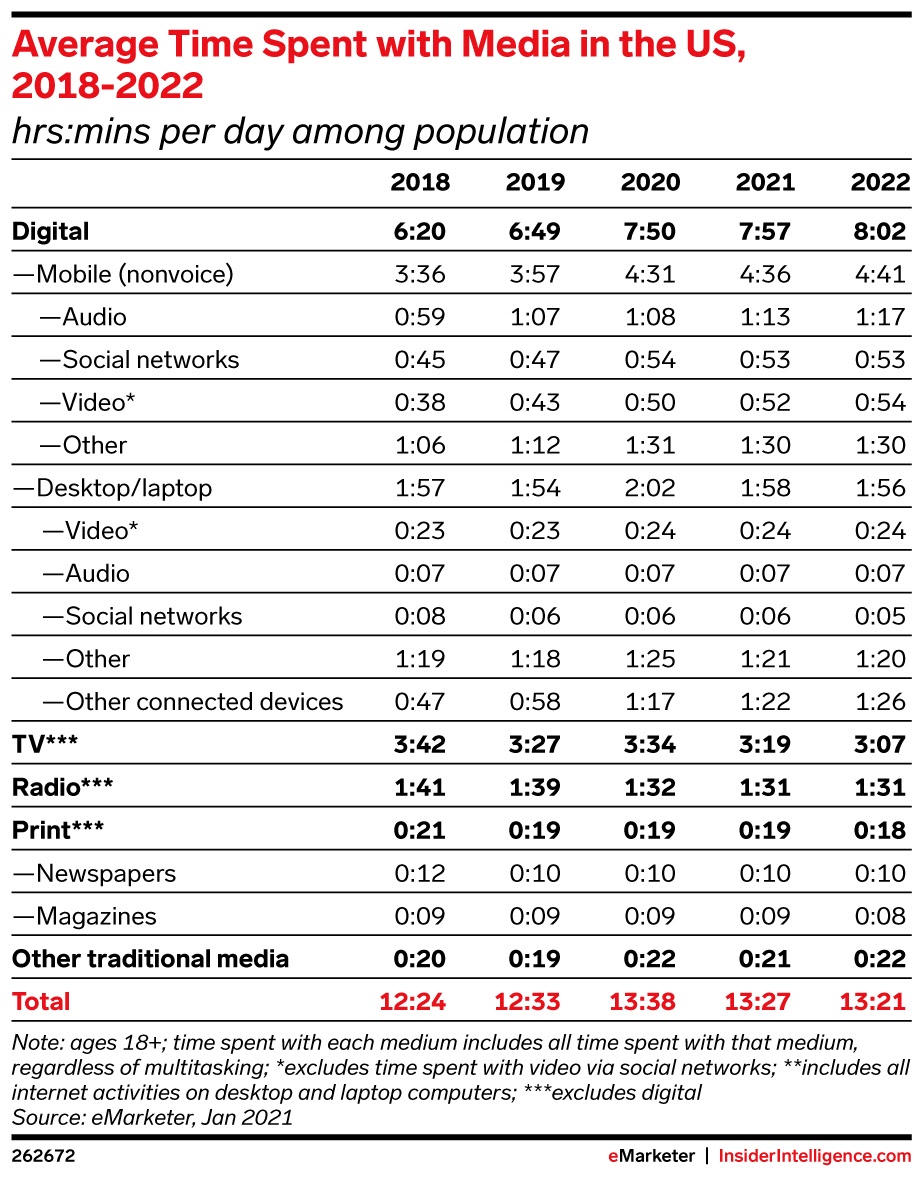 For advertisers, it is imperative to look deeper in order to focus on trends in time spent with ad-supported media. Because included in the overall time spent figures above are is time spent with non-ad-supported/customer-supported options like Netflix and HBO+.
When you drill down to ad-supported media, a different pattern emerges. According to the latest edition of PQ Media's annual Global Consumer Media Usage Forecast, time spent with media supported primarily by advertising dollars fell to its all-time low.
The time the average American spent with all forms of media rose to a collective 73 hours weekly in 2020, largely due to the impact of the global pandemic.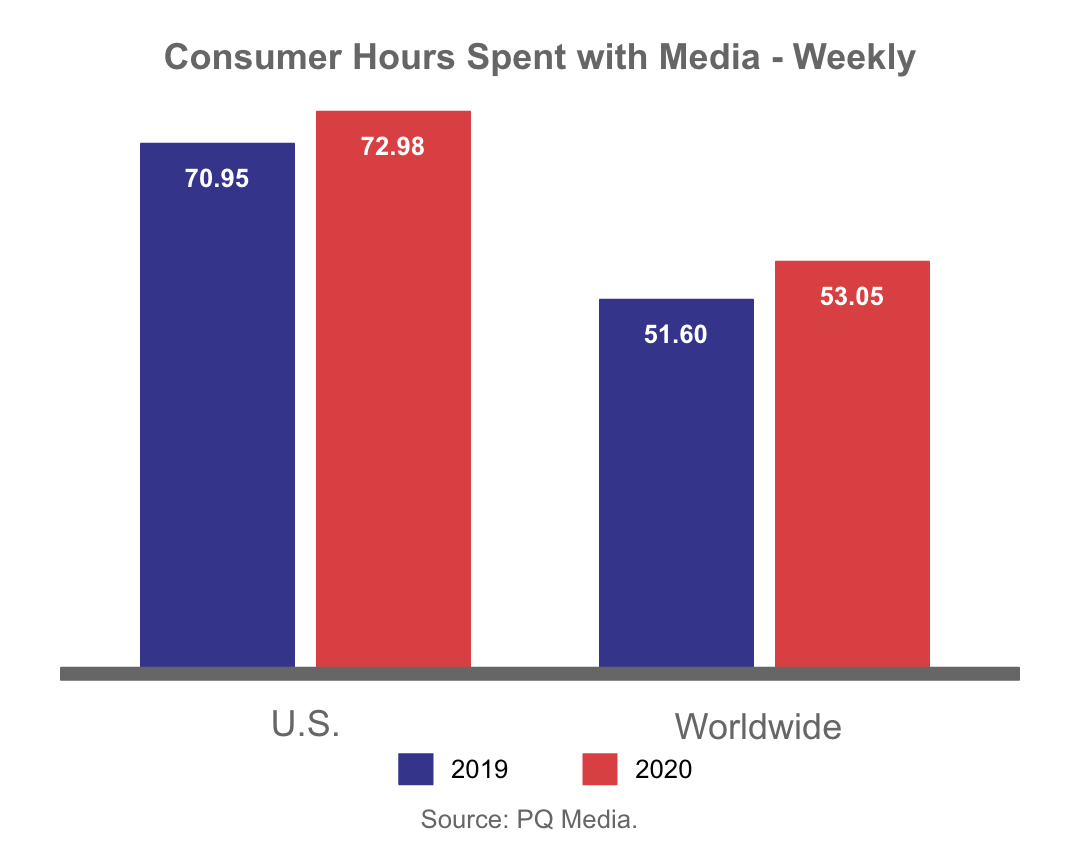 However, with the greater adoption of subscription streaming services and other consumer-supported media during 2020, the share of time spent with ad-supported media fell to 44.8% in the U.S. — an historic low since PQ Media started tracking it.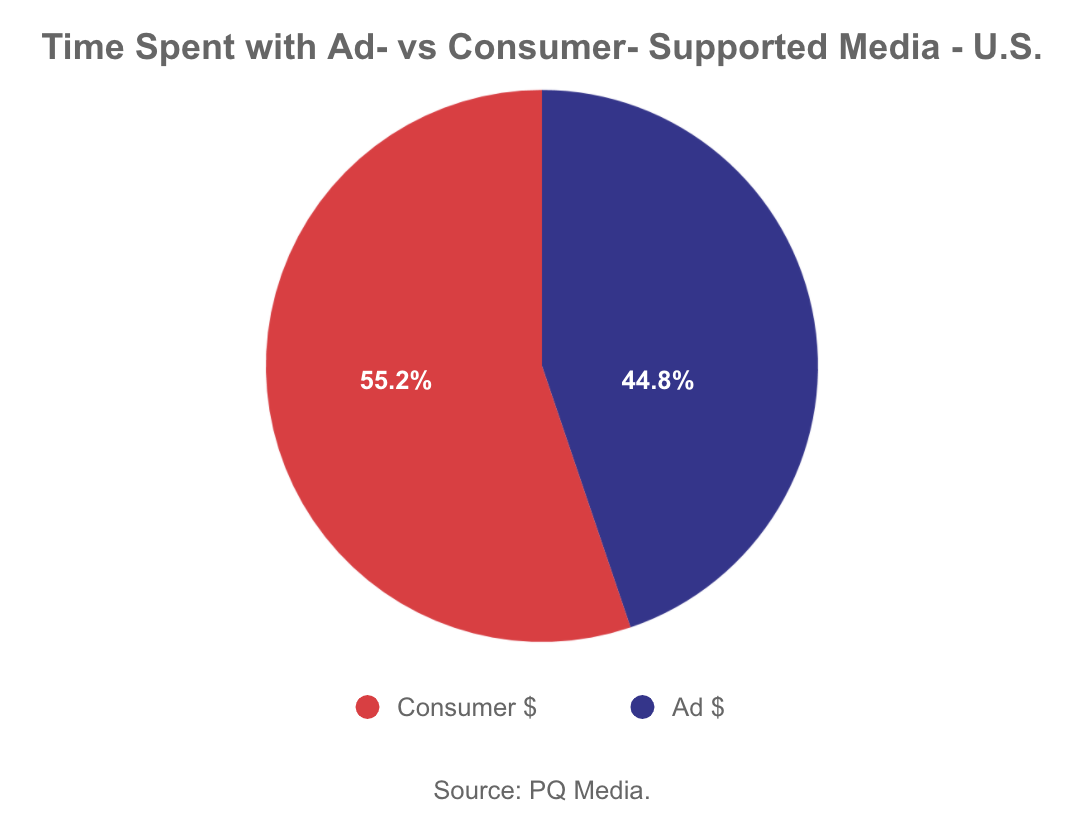 "The prime beneficiaries of this paradoxical growth surge in media usage were consumer-supported media, particularly digital video, audio, games, social media and chat services," states PQ CEO Patrick Quinn, adding: "There's no doubt that streaming media as a group were the hands-down winners in an otherwise loser of a year for many media stakeholders, particularly those dependent on advertising-driven media."
As we study changing consumer habits and look to the future, we expect that most digital categories will maintain their gains in 2021 – partially because the pandemic is not over yet and partially because of the stickiness of new consumer behaviors – but growth will slow considerably as socio-economic conditions gradually normalize. However, the 2020 gains in traditional media time spent will begin receding this year.
Time spent with digital media will continue growing beyond 2021, although increases will be modest, given how much growth was unexpectedly pulled forward into 2020.
For traditional TV, the opposite is true. While TV will still command a huge amount of time spent per day, TV's share of total time spent with media will drop below 25% for the first time. Ten years ago, that figure was nearly 40%.
Among US adults, time spent with "other connected devices"—a category including smart TVs; connected TV devices like Apple TV, Roku, and Google Chromecast; connected game consoles; and other internet-connected devices—will continue to grow.
At True Media, a thorough understanding of how our clients' customers are consuming media today and in the future enables us to create effective engagement strategies that deliver results.
Connected TV in Your Media Strategy
As the media industry continues to be unpredictable with the disruption of COVID-19, advertisers are finding it harder to connect with their core audiences. 
Connected TV has continued to see an increase in viewership since the beginning of this year and it's expected to continue to rise while paid TV households (those with a subscription to traditional paid TV services) continue to decrease. By 2023, according to eMarketer, non-pay-tv households (cord-cutters) will hit 68.2MM users (vs 56.3 in 2021), while pay-tv households dip to 63.4 (vs 73.7 in 2021). Ad spending in this space by 2021 is showing to be $11.36 billion dollars and by 2022, $14.11 billion. 
As the incline in Connected TV users grows, advertisers should start to strategically think about how to utilize this service to its fullest potential to reach their core audiences. Knowing that a majority of the population is going to be consuming content within this format, this type of targeting should undoubtedly be a successful tactic in advertising efforts and future strategies. 
Outside of traditional video, CTV buys and layering core audiences, there are additional opportunities and publishers that you can tap into that allow for expanded advertising. Examples like VideoAmp and Tremor/Alphonso, publishers that have ACR data, allow advertisers to target audiences who have seen a competitor's TV ads and then target those users in real-time with their own advertising. Another example of expanded advertising opportunities with CTV is utilizing Origin, which is an offering within our programmatic efforts that gives you the ability to send trivia questions about your brand to your core audience as a different approach to capture consumer attention. Publishers, such as Hulu, can build out branded slates that live at the end video ads that allow for an additional call to action type of brand advertising.
When thinking about the next strategy approach for clients, it is important to include innovative ways to not just reach your audience, but also keep their attention. With the high consumption rate for Connected TV expected to continue to grow for the foreseeable future, utilizing this format could serve as an excellent solution to target your core audience.
At True Media, we will continue to utilize resources and research to help determine the best approach within this tactic to capture consumer attention and ultimately convert them to favor your brand.  For more insights on Connect TV advertising in your media strategy, contact us.
The End of the TV Upfront?
June 2020- No big parties, no celebrity photo ops, no late nights, no trip to New York, less hype about new shows, few(er) clients making commitments to linear TV a year out (with no media plan), no rushed buying with "revised rate cards" going up every week (with audiences going the other way).
Has the antiquated and overhyped TV Upfront, which saw 60-70% of annual TV dollars invested in a 4 week period, finally gasped it's last breath?
If so, what is the new buying and selling process? How are "traditional" broadcasters evolving and what are the key takeaways from the Non-Upfront.
TV and Video Futures
We evolved the discussion from TV buying to Video buying 10 years ago to better reflect the reality of consumer behavior. While "linear" TV remains the cornerstone of driving reach quickly and coverage for any video buy, each year as linear TV audiences decline, audiences must be repatriated via an increased spend allocation to VOD, ad-supported streaming services that don't require a cable subscription (eg CTV Throwback, Hayyu, GEM), YouTube, Facebook video and others.
TV is projected to see a 15.6% decline in advertising investment in 2020 (eMarketer).
Most of the spend decline has happened in the months April through July; no sports playoffs, no Olympics, and many categories /clients are cutting, reducing or shifting TV spend to the fall or to digital. However, with sports (NHL, NBA, MLS playoffs, Golf and tennis Majors) returning in August/September and the easing of COVID-19 related brakes on ad spending, the fall YOY investment levels with TV broadcasters will be similar to fall 2019 (-1 to -3%).
In fact, the same eMarketer forecast has TV rebounding 9% in 2021 vs 2020, a net loss of 6% vs 2019.
What Innovation did the Non–TV Upfront Bring?
First, it is important to note that 70% of Canadian households still have a Pay TV subscription (i.e. cable or satellite) and 30% of those services are now delivered via IPTV Next generation Platforms (like Rogers Ignite). Although penetration has been declining 2-3% annually, Pay TV HH's are still dominant and provide the basis for any video buy (note: Gen –Z target or budget limitations may drive a non-linear TV strategy). Long-form video (i.e. Netflix, Amazon Prime, Disney +, Crave) has grown quickly to 20% of Video viewing, however, most aren't ad-supported, so it has actually increased demand, and costs, for the audiences to Linear TV /AVOD.
Major English Broadcasters Agree on Audience Segments
In a truly Canadian collaboration, Bell, Rogers and Corus have all agreed to sell inventory based on the same 19 Environics audience segments, with the first collaboration anywhere in the world. This will allow media buyers to buy near-live inventory via a self-serve platform (Cynch for Corus and Rogers, SAM for Bell) against a much richer profile that incorporates behavioural data with traditional demographics for a more robust picture of the viewing audience.
Bell is also offering the ability to buy digital and outdoor against the same in-depth segments, as well as a first in market TV Attribution service which will report TV impact on website visitors.
VOD, in App and Streaming Options
All major broadcasters continue to provide options to buy their programming delivered via an app/online (you must authenticate that you have a Pay TV subscription). There are now more opportunities to reach cord-cutters via services like CTV Throwback, Corus shows on YouTube or STACKTV and connected TV (Samsung).
VOD viewing continues to rise and Bell, Corus, and Rogers have more hours, more shows and more geo coverage allowing them to extend unique reach by up to 17% over a Linear only buy in an on-demand, non-skippable, reduced commercial load environment.
CBC's Gem offers Canadians various levels of programming. All Canadians can access, without any paid subscription, the same level of programs offered through conventional television. A free authenticated subscription (ad-supported) unlocks on-demand current and past seasons, live streams of CBC TV (including local channels). Further paid premium subscriptions allow for early access to exclusive content. During Covid-19, Gem's average weekly video views soared by 84% (mostly on the strength of news content).
How Do We Envision a Better "Non-Upfront" Market?
Our True Media approach is more about partnerships and is driven by client needs and client focused buying.
Clients have an increased need for agility which means we will pursue more flexibility in buying commitments, cancellation clauses, shifts in timing and platforms.
Every discussion should start with sharing business KPI's and then a collaboration on measurement strategies, and on innovation. Agencies should share the creative strategy (and ideally the concepts/execution) to better amplify the message in the right content.
Negotiations happen once a quarter, with a monthly optimization, across Linear and Digital, AVOD and OTT, seamlessly and simultaneously with, soon we hope, one standard measurement.
For more information on how True Media can help you reach your audience and meet your goals, contact us.
---
As president at True Media Canada, Bruce Neve is setting a new standard for how media is approached and purchased, and his commitment to advertising is changing the way the growth of Canadian-first companies is addressed. He brings with him more than thirty years of experience leading major media agencies; driving strategy, planning and buying across all platforms for both English and French Canada.
Emerging Post Pandemic Out-of-Home Trends
The past few months have been tough on the Out-of-Home (OOH) industry. With consumers under stay at home orders they have not been on the roads or traveling the amount of miles they normally would during the course of a week. Advertisers had to rethink their strategy and find different and creative ways to use OOH to reach their consumers. Hand sanitizing stations, branded face masks, grocery/delivery bags, and pizza/take out boxes are just a few of the ways advertisers have been able to get their message in the hands (literally) of consumers.
This week we are celebrating the 8th consecutive week of the average number of miles traveled increasing across the country. Not all markets are recovering at the same rate, but all have seen considerable growth since April. According to GeoPath, DMA's New York's weekly average miles traveled have increased 175% since April, however Omaha has only increased by 37%. It will take time to get the numbers back up to where they were prior to COVID-19, but we are already on the right track and the numbers will continue to grow.
However, not all consumers are ready to venture outside of their homes. According to Nielsen's (href="http://blog.geopath.org/index.php/2020/05/19/nielsens-covid-19-consumer-sentiment-and-spending-intention-study/) COVID-19 Consumer Sentiment and Spending Intention Study consumers have one of three attitudes: "Wait and See" (31%), "Proceed with Caution" (37%), and "Ready to Go" (32%).
The "Ready to Go" segment is optimistic that life will return to normal quickly. This group tends to skew younger (25-54), have children under the age of 11 in their home, and are more affluent with HHI of $100k+. They intend to spend money on travel, household services, home improvement, auto parts/ repair, and food/dining. In regards to travel, they will most likely avoid airports and confined spaces, but will still travel by car or other methods to get where they are going.
The "Proceed with Caution" group is leaving the house, but being very cautious about where they go and take all the necessary safety precautions. The "Wait and See" group plans to wait a little bit longer before venturing out. Even though they are taking things one day at a time, they still expect to be back out in the world within a month or two.
This data shows that 69% of consumers are back on the road and ready to spend.
So what does this mean for OOH? With people back on the roads, traditional OOH impression levels are headed back to where they were prior to the pandemic and will continue to grow. Since consumers have been cooped up for so long and summer is almost here, many are starting to plan vacations, which will increase the amount of impressions even more.
The OOH might struggle at times, but if you think outside of the box there is always a way to put your message in the hands of consumers. After all, there is a reason why it is the oldest media format.
If you have any questions about your OOH media strategy moving forward post-pandemic, please contact us.
---
Chrissy has more than 20 years of experience as an OOH Media Specialist and has worked for national agencies such as D'Arcy, MediaVest, and Starcom. Throughout the years she has handled numerous traditional and experiential/ambient outdoor campaigns across the globe for clients such as Continental Airlines, Oracle, Jim Beam, Miller/Coors, Ernst & Young, and NBC Networks. At True Media Chrissy's experience helps others develop effective OOH campaigns for our clients. By keeping up the latest trends within this industry she is able to recommend innovative solutions to help clients achieve their goals.
The Post-Pandemic Trend Toward Localism
According to recent research from Kantar, the COVID-19 pandemic is driving a surge in 'localism' around the world — that is a preference for one's own area or region. This move toward localism was signaled by an increase in local consumption of goods and services and is being driven to some extent by concerns about the safety of imported goods. While this trend was in place among sustainability-conscious consumers before the pandemic, the sentiment has become more mainstream as more consumers now think that the brands they use should bring production back to their own country.
National marketers may shift budgets to local marketing as communities enter the post-pandemic period at different times. Cost efficiency and effectiveness are even more important today as brands look for outlets to build or re-build their brands and share of voice. Minimizing waste and maximizing impact is critical during a recession. Identifying customers when and where they are actively looking for goods and services is key.
This trend toward localism is being applied at an even more granular level within local communities. The personal and economic disruption experienced by Americans over the past several months has created a personal desire to support local communities and local businesses first — supporting friends, neighbors, and co-workers.
Periods of disruption — whether a recession, natural disaster, or pandemic like the coronavirus — accelerate change, and it only takes a month or two for changes to stick and become new habits. This trend toward localism will likely become even more important to consumers in the post-pandemic recovery period, which means marketers should prepare to follow it closely.
Local marketers too should continue to have a presence in their communities and work to establish trust and loyalty. The COVID-19 pandemic quickly changed the media landscape and shifted consumers' media habits. Marketers during this time need to be nimble in order to be successful. Brands need to be able to shift strategies to target their customers, as well as engage with them in the channels they are choosing to trust for information and entertainment as they navigate the new normal. As many workers return to work and businesses reopen, media consumption will continue to change. Agile marketers that connect with their consumers on a local level have the best chance of recovery and growth.
Today's new normal is very different from our pre-pandemic normal. My local market's new normal is likely different from your local market's new normal. At True Media, we will continue to help brands navigate these unique local marketplaces, trends, and changes in media habits. One of our goals is to identify relevant opportunities to deliver above and beyond established KPIs on a local market basis to help brands grow.
---
As SVP Activation Strategy, Vaughn provides strategic direction to our agency, playing a crucial role in planning for the future growth of the agency, including molding and training activation teams. He understands the correlation between brand, content, and channel to drive incremental, measurable results. His background in media strategy from start to finish allows him to lead his team in focusing on the acquisition of the most efficient, relevant, engaging and effective media touchpoints for client media plans, while always looking for innovative solutions along the way.
Industry Perspective: Local Banking
All banking customers want to know their financial institutions are strong, stable and reliable, even more so during times of crisis. This includes both retail customers and commercial clients who trust their local banking institutions to provide sound and helpful advice.
There is no doubt the economic impact of COVID-19 is huge, and the finance industry has not been excluded in that. Banks are feeling the impact as lending needs are increasing. As soon as congress enacted the Paycheck Protection Program, banks quickly responded by distributing funds. With record unemployment, banks are working with customers to provide relief from loan repayments and fees. Unemployment and lower interest rates will cause savings to slow. Lower interest rates will also lead to an increase in mortgage loans and refinance needs. Banks also continue to compete with financial tech companies that attract consumers who do not feel the need to have a traditional bank. Many of these are currently promoting their services during COVID-19.
So what can traditional banks do for advertising during hard economic hardships?
First, keep creating content. Next, remember that messaging is key during this time. And finally, make sure you are reaching your target audience even when many of their habits have changed with shelter in place.
Continuing to create content for your consumers during this time is more important than ever before because it illustrates your ability to be there for them no matter how hard a time. A desire for financial education and advice will increase among all ages. Try creating ongoing educational programs to hold online or whitepapers for download. These can be easily promoted on social media channels which have also seen increased usage and engagement.
When it comes to messaging, the message should be more about its customers and how it supports the community on a regular basis (not just during hard times) and less about gaining new customers. Many local stations are running encouraging "We are in This Together" messages and including local advertisers in the ads. Try securing opportunities like this as added value and have bank employees included in the messaging. Beyond that, consumers are looking for financial solutions and safety. Now is a good time to promote products or tools that help manage finances or promote online banking tools that limit the need for in-branch transactions. Keep in mind that while most consumers have adopted online banking there is still an older population that does not embrace technology and online banking.
The average consumer's daily lifestyle, including the use of media, has drastically changed during this time. Utilizing data is crucial in order to ensure you are incorporating the right tactics and the best strategy in order to reach consumers. TV is experiencing its highest ratings in years, and CTV and OTT advertising during this time grew exponentially, although it is now beginning to level out. In analyzing a client in the local banking industry, RADaR Analytics was able to find that Programmatic Display ads, that are typically responsible for driving most of the website traffic, displayed an average CTR 36% lower in 2020 in comparison to 2019, and a higher cost (CPC 117% and CPM 33%) even with a budget similar to 2019. Additionally, Social platforms, specifically Facebook, increased website traffic by more than 142% in the month of March. These are some key points to keep in mind when figuring out how to make sure your message is reaching your audience.
The next few months will be interesting as to how businesses will change and adapt and the economy begins to reopen. However, no matter the circumstance, local banking will continue to have an important role in helping communities and local businesses grow.
---
Kim Odom joined True Media in 2005. She serves as Associate Media Director overseeing strategy and account management on a variety of accounts. Kim has over 25 years' experience ranging from traditional media buying to account planning.
Sports Post Pandemic
I confess, usually in a typical week at this time of year, I would watch 2 Leaf games, a Raptors game, attend a TFC game (I am a long term season ticket holder), maybe catch a few innings of a Jays game, the Sunday telecast of a PGA golf event, talk sports at work, peruse TSN.ca daily, talk EPL soccer at the pub and, if the weather permitted, play a game of tennis, a round of golf and maybe even a pick–up soccer game. So yes, I miss sports.
Some people blame our beloved Toronto teams for the shutdowns.
Virtually every sports league and major event (Olympics, Euro2020, Wimbledon) has been cancelled or postponed.
For some, the time spent watching sports has been "partially" replaced by more engagement with e-sports, video gaming, twitching; but for me, that isn't the same buzz as a whole city rallying behind a Raptors playoff run or a good Leaf flame out in round one playoffs. There is no doubt the adoption and use of e-sports, YouTube gaming live, Twitch and their growing relationship with sports leagues will be accelerated.
When sports do return, the NHL, NBA and MLB teams will be playing to empty stadiums. While the sports audience is primarily Broadcast/streaming vs in–stadium, the energy in and around arenas ( bars, restaurants, street viewing) will be lost. Leagues that rely to a greater extent on gate receipts (eg. NHL), will be hurt the most.
This period of playing to empty stadiums will be a great time to accelerate testing of immersive VR, interactive co-viewing experiences via mobile, behind the scenes " insider" views of pregame preparation, action on the bench, choose your own camera angles, contests, and more. Monetizing the game experience could be another revenue stream for teams hurt by ticket sales revenue evaporating.
But what changes when we can return to stadiums? Ticket sales will possibly start in smaller numbers.
Digital ticketing and contactless payments were already becoming the norm, but how about branded face masks instead of team scarves handed out at the gate, all food pre-ordered and there for pick up, washroom break times pre-allocated to reduce numbers.
Forbes recently listed off ways in which fans will have a heightened since of awareness for hygiene and how stadiums may consider accommodating the new needs. Here are a few examples:
Preparation: Fans will not want to directly touch their food with their hands. Can hot dogs be half-wrapped or can there be a spout for popcorn? What else can be done to make this easier?
Condiments: A condiment bar is full of germs. Should all condiments start being individually packaged?
Gloves: Should gloves be offered with meals? Or upon entrance to the gate?
Payment: People will not want to sign anything with a public pen. Tap-and-go options should be offered.
Ordering: Staff members should touch as few things and people as possible. Plan for online ordering for concessions and merchandise and fans can simply come by to pick it up.
Process: Ushers shouldn't grab tickets to check them. What happens with the passing of programs or giveaways?
Staff Apparel: Are staff wearing masks and gloves? Potential disadvantage: wearing a mask in a loud arena will make communication difficult.
Staff Testing: Will staff be tested and certified? How can you publicize that knowledge (HIPPA)?
Restrooms: Automatic faucets and toilets should be a must. What else should be done?
Mobile Vendors: Exchanging or passing cash down the row is done. What should Hawkers do? How do they sell? Is that eliminated?
For now, experiencing and learning within video gaming, e-sports, Twitch and other platforms that have already replaced much of sports viewing for Gen Z.
In the near future, sports sponsors and broadcasters can create new opportunities to engage sports audiences via VR, new complimentary experiences, ( chose camera angle, become the announcer, "bet" points on the next goal/penalty , penalty shot results).
Whats' next? In-stadium audiences may include client branded face masks, gloves, scarves, hand sanitizer, pre-paid food cards, and clients sponsoring cable net or DAZN subscriptions for 6 months?
While there are arguably much bigger issues and priorities to address before the return of sports, I do look forward to the day that we can all enjoy the passion, the dedicated athletes, the friendly banter, the weekend warriors and hope that life returns to those employed directly by, and those that benefit by association (bars, restaurants, hotels) to the game of sports.
I welcome others to share their thoughts about sports now, in the near term and the lasting impact of the pandemic.
Industry Perspective: Agriculture
How are you doing? I hear this on every call, every meeting lately, more than I ever have before: "how are you doing?" It's the acknowledgement of the times, and the very human moment in all of us as we take a moment to consider how our partners — our teams — are doing. And, I feel that brands who will come out shining through this are the ones asking these key questions to their customers: "How are you doing? How can we help?" As people focused on how to communicate with our client's customers, now is a great time for us to be providing guidance on this; being the voice of the audience's needs and how best to deliver messages during this time.
The advice that we give should apply just as much to our B2Bs as it does to our B2Cs. And so, my recent focus has been on my favorite B2B category: Agriculture. We reach a lot of Farmers on behalf of our Ag industry clients, and I have been keeping tabs on how things are unfolding in this industry, to get to the heart of how Farmers are doing.
Small businesses across North America are shuttering doors, deemed non-essential in the face of social distancing. Farming operations are very much small businesses, but they do in fact supply a very essential service, one necessary for sustaining life. Long story short, the show must go on. Acres must be planted, animals must be fed, and food must be produced and supplied in order to keep grocery store shelves full. Of course, there is disruption, and of course, there are concerns and uncertainty, farming is a volatile enough business in normal times. So, farmers, how are you doing?
According to a recent survey conducted by Farm Journal Media on AgWeb.com, Farmers' & Ranchers' top concerns are commodity prices, financial outlook, and the health of their family & labor force. On a recent Farm Country Update, also produced by Farm Journal Media, a panel of farmers and producers from all over the U.S., including this year's Top Producer from southeastern Saskatchewan, supported this claim.
Commodity Prices – farmers are always concerned about this, but they are very much watching how COVID-19 affects them. Prices haven't been that great, but seem to be, in some cases, ticking back up.
Financial Outlook – net farm income has been trending back upward, but 50% of farms are not earning positive returns from farming activities, and some are well above acceptable debt-to-credit ratios (USDA). Silver linings: low-interest rates (will allow for lower financing and refinancing costs), increasing land values (more collateral) and low fuel costs (decreases inputs).
Health of Family & Labor Force – Labor is a key issue in many different dimensions. They need a healthy labor force that shows up to work and they need to manage the stress and anxiety of those that show up to work. They need staff to increase responsibilities, providing extra sanitation precautions. And, they need labor to not be an issue at the processing level so that they have a place to send the food they produce.
So, how can we help?
Although in rural communities, Farmers still feel the effects of social distancing. They can't go to their favorite coffee shops. Their face-to-face contact with trusted Ag advisors, which is valued very much, is limited. They are relying a lot on digital communications and teleconferencing, as one Texas farmer noted "We've been using a lot of Zoom lately." Digital and mobile channels win the day, but in using those, brevity with a personal, human element is very much needed.
Farmers still need support and education. This also relies heavily on digital channels at present. Webinars, tutorials, and training videos are great resources to leverage right now. If they exist, promote them. If you can, build them.
Farmers need game plans, emphasis on the plural. They need ideas on how to plan, how to pivot, how to protect themselves and how to recognize opportunities in this crisis. Some members of the Farmer Panel stated that at this time because of "cheap money," they may be considering investing some capital into their operations to improve efficiency. Messaging with distinct proof points on ROI could appeal to this mindset.
Farmers are employers, they rely on laborers and staff to run the operations. Many farmers on the panel stated concern about managing the stress and anxiety of their staff. Guidance in this area would help them help their workers. Included in that is appreciation. The panelists mentioned having lunch brought in for their staff, buying gift cards, were ways that they care for and appreciate their staff.
So Farmers are still doing what they do best, and they love what they do. It's funny that in such an industry where control is a fallacy, that these men and women seem to be eternal optimists. Brands that can recognize how Farmers are feeling, reinforce recognition of what they do to the masses, and find ways to help them through this, will be the ones remembered. And you might ask, what do Farmers miss the most? One Pennsylvania Hog Producer stated "having my breakfast at a local restaurant every morning, it's a big part of my daily routine." It seems that we all just want to go out and get a cup of coffee.
---
Lesley Landry heads up the True Media Ag Vertical. She is a dedicated media professional with two decades of experience crafting media strategies, as well as stewarding efficient placement of paid media schedules. Lesley possesses a wealth of media knowledge that is supported by general marketing experience and understands how to reach target audiences effectively across channels. Focused on measurable success, she is always seeking to improve upon previous successes. Much of her career has been focused in the Ag industry. She has worked with a variety of accounts in the seed, crop protection, finance, equipment and animal health categories in North America.