Traditional Media Drives Trust
The ever-evolving digital landscape brings a lot of excitement for marketers, but with it comes more ways to measure a campaign and, by default, new complications when trying to compare business successes of various channels. While Econometric and Media Mix Modeling studies can easily solve this issue, they are a huge investment that many clients don't have the budget for. As a result, markers begin reverting back to obsessing over media metrics such as number of clicks and what percentage of the target audience was successfully reached. These metrics are important and serve a crucial purpose, however, just looking at these alone overlooks the opportunity of measuring behavioural and attitudinal shifts that can be strong indicators of business outcomes. There are opportunities with many media vendors to unlock added value brand studies in order to measure consumer perception including trust, preference and consideration. Even when minimums for brand studies can't be met, it is still possible to look to various industry studies that show what channels will likely drive a shift in consumer behaviour. Utilizing this data helps inform a full-funnel approach, ensuring each channel has a role and is working together to deliver on the outcome.
A recent YouGov study asked an 18+ audience what advertising channels they find most trustworthy and in the US (with similar results for the UK, Canada was not surveyed) traditional channels were at the top with Print, TV and Radio leading the way. At the bottom of the scale was Social Media, which is unsurprising — with all the coverage around fake news on social platforms it can be expected adults don't even trust paid ads on the platforms.
A global study that broke out Canadian data on video platforms is consistent with the above data — TV far surpasses online video and social media when it comes to building trust. This data shows how important the placement of creative is and how much that influences the consumer's perception of it and the brand.
This rings true even when looking at a younger audience of adults ages 18-34. While there is a decrease in TV and increase in Online Video and Social Media, TV is still seen as 3x more trustworthily.
This research does not imply that we shouldn't use Social Media, but it does illustrate the importance of different channels contributing to the outcome in different ways. Even a top digital company, TikTok, recently bought a huge TV and outdoor campaign in order to build their brand. It is well known that top-funnel channels such as TV, Radio and Print, help drive more efficiencies with lower-funnel conversion channels such as Search, Social and Display. It's a simple concept — you need to prime the audience with channels that make them aware, build trust and affinity in order for them to be receptive and comfortable when they receive a lower-funnel conversion message. This means less frequency and messaging is required for lower funnel tactics in order to drive the business outcomes, whether that is a sale or sign up. Full funnel thinking not only drives short-term outcomes, but it also works to build the brand in the long term.
The data doesn't lie — the same Canadian study proves this theory by showing that TV and Digital together drive an ROI increase of 23%, while Digital alone would see a 19% decrease in the ROI.
At True Media, we work with data experts for Media Mix Modelling, as well as attribution and correlation analysis. We also utilize tools that optimize channel mix to business outcomes, rather than just intent.
Remember that you can't expect a consumer to buy your product without understanding your brand and building a relationship with it first. Ensure you are using full-funnel thinking and apply a multi-channel approach to your campaigns to drive the best outcome for your business.
It's Time for a Local TV Currency Change
Local TV broadcasters and buyers are finally moving to an impression-based vs. ratings-based currency in order to place Local TV on a playing field comparable to other video and digital channels. Viewing audiences have actually always been measured on impressions, and this evolution does not represent a fundamental change. What is changing is the transaction currency for those impressions — now transacted on a cost-per-thousand (CPM) rather than a cost-per-point (CPP) used when the impressions were converted to rating points. The pace of this evolution was accelerated to accommodate Nielsen's upcoming integration of broadband-only (BBO) homes into its local samples and universes – originally slated to become the standard for most local markets on April 1st, but recently delayed by Nielsen to October 2021.
While rating points typically rounded Local TV viewing audiences to the nearest tenth of a percentage point, leaving some viewers on the sidelines, and were held to Nielsen's minimum reporting standards,  impressions account for all viewers and allow for more precise reporting of Local TV audience delivery and performance as well as post-buy evaluation. 
In the past, ratings could easily be converted to impressions, but the nature of rounding and reporting minimums often under-represented the total number of impressions, and the recent addition of Nielsen's BBO homes is affecting the local market universes. Early estimates indicate that the shift from ratings to impressions and the addition of BBO homes adds anywhere from 5%-20% of viewers depending on the daypart. Interestingly, while local market universes will increase, ratings will likely see an overall decline because of proportionately less Local TV viewing in BBO homes.
The shift to impressions not only enables sellers and buyers to count all viewers on screens, it helps to simplify cross-platform comparisons and include Local TV in those solutions. Using impressions as the currency for Local TV, buyers and brands can now plan holistically across platforms and screens.
Moving to impressions will also help buyers to consider automated TV platforms and processes common in digital platforms, and further efforts to use audience data across platforms. 
This change doesn't reflect a change in the way viewers are watching Local TV. Instead, it reflects the desire for sellers, brands and agencies like True Media to transact in a currency more similar to the majority of other channels, as well as positioning Local TV as an integral part of the evolving video landscape.
What does the Apple iOS 14 update mean for advertisers?
Apple has announced upcoming data-permission changes with iOS 14 that will impact how advertisers, publishers and app developers can target and track users on Facebook and other platforms. Businesses that advertise mobile apps, as well as those that optimize, target, and report on web conversion events will be affected.
Until now, advertisers could use a device ID number called the IDFA (Identifier for Advertisers) to better target ads and estimate how effective they were. In iOS 14, each app that wants to use these identifiers will prompt users to opt-in to tracking when the app is first launched. Users can choose "Allow Tracking" or "Ask App Not to Track." If users want to provide more data for advertisers to serve them more relevant ads, they will need to explicitly opt-in (rather than currently being able to opt-out) in order to provide permissions to track them or access their device's advertising identifier. This prompt will appear when using all iOS apps, including apps within the Facebook family and apps that monetize with the Facebook Audience Network.
Data permissions that will require user approval include:
Displaying targeted advertisements in apps based on data collected from apps and websites owned by other companies
Sharing device location data or email lists
Sharing a list of emails advertising IDs or other IDs with a third-party ad network that uses that information to retarget
Placing a third-party SDK in apps that combines user data from one app with data from another app to target or measure advertising
As users opt-out of tracking on iOS 14 devices, advertisers will see a decrease in the number of conversions attributed to their paid advertising campaigns and iOS 14 limitations may cause some ads to be paused or stop delivering to certain devices.
In its long history of conflict with Apple's stance on data and privacy, Facebook has responded by testing a new feature that shows users its own prompt before Apple's pop-up appears. In this test, Facebook's prompt will explain to users why it wants to track activity and ask users to opt-in, hoping to convince users to allow ongoing tracking to provide a more relevant advertising experience.
At this point, it is difficult to anticipate the full impact of this permission change, but we are working with our social partners to ensure that other tracking mechanisms are in place. Making sure pixels, SDKs and web domains are updated and verified is important for future conversions. We will continue to work with each client and determine best actions to ensure the best targeting and tracking tactics for each unique measurement strategy.
What Drives Media Decisions?
Are media buys driven by media plans, or are media plans driven by media buys? This was the question posed by ID Comms in a report published last month. When billions of dollars are exchanging hands, it's an incredibly fair question for marketers to ask. While of course there is an obvious answer to the way it should be, those who work in advertising know that's not always how it plays out.
The rise of digital media changed everything. Never before have brands and agencies had access to more information that could help inform and optimize their campaigns, or more levers to pull. Consumers have also never been more fragmented. The share of attention is divided across the media ecosystem, subscription streaming services have initiated a decline in some of the tried and true media vehicles, and as we all know from last week, third-party cookie depreciation and data privacy will continue to evolve how we can target consumers for the foreseeable future.
There has never been a time where media strategy was more important. I would also argue that there has never been a time where media strategy was treated as more of a commodity.
The unfortunate reality is that over the years, many agencies have allowed media services to become a commodity. They have neglected both the science and the art of the craft of media planning in favor of gaining clout, creating bulk publisher deals, moving dollars to undisclosed trading desks, or the worst thing, lazy reliance on outdated assumptions and tactics to keep service hours down.
If you aren't innovating or driving towards business growth, it's fair to be considered a commodity.
This isn't completely the fault of the agencies. There was a race to the bottom fueled by the notion that whoever had the most impressive billings slide could buy the local morning news for a few cost-per-points cheaper. It didn't matter if a smaller agency had a better relationship with that news station, or if another had the data to show the late news was better for the audience. Buy cheap…buy more…pray it works…grade the homework.
Many marketing procurement departments still want to grade their media agencies on always being "cheaper", but still expect to have more offerings, senior level talent, new tools and low fees…therein lies the economic challenge of the media agency business model.
So how do we fix this? Well, it starts with setting clear expectations for what you want your agency to deliver. Do you want cheap, do you want strategic, do you want fast?
Some brands have the luxury of large marketing departments and truly need an execution partner, and in those cases, volume media discounts and guarantees may be the right place to put emphasis. While that may work for the P&G's of the world, that does not work for the majority of mid-sized companies or regional brands. Those brands need an extension of their team, a true partner, who is willing to roll up their sleeves and take delivering results personally. They need a partner who is held accountable to delivering results, and they need to be willing to pay for it.
If media agency KPIs are attributed to driving business results, and they are successful, then isn't paying a modest premium on fees worth it? It's a small price to pay for the greater value of the work.
The good news for marketers is that there are a lot of great agencies out there to do this. It's really about finding the right fit. The answer isn't about the size of the agency, or the holding company, or the brand — it's about the right team and their access to the right information.
The right media team takes the time to understand the dynamics of the brand, of the marketplace, the insights of their customer.
The right media team has access to the right data (consumer, media, geo, marketplace) and can help clients gain more marketing value out of their own data.
The right media team are experts at activating across all publishers and platforms. They are current on trends, and take thought leadership on what is coming.
The right media team respects the creative partner, the role of the right message, and the role of culture. They emphasize collaboration to bring campaigns to life and hold them accountable.
The right media team is transparent. "This is what we do, this is how we do it, this is how we make money, this is why it's worth the investment". If you can't trust the partner who you are investing millions of dollars with, you are probably with the wrong partner.
The right media team has a clear understanding of the big picture objectives, but also knows how to measure across all of the key touch-points of the customer journey so that all marketing efforts are driving towards it.
It's a fair question to ask, but the right media team let's strategy drive buying decisions. It's the only way to move beyond the role of commodity to the role of consultant.
If you'd like to speak to an agency that follows this model, give True Media a call.
Time Spent with Media Still on the Rise
As we have all seen over the course of the past year, the pandemic and subsequent stay-at-home orders and work-from-home opportunities accelerated the pace of change in consumer media habits.
Overall, Americans ended up spending 13:38 daily watching screens, listening to audio content, or reading traditional print news in 2020, an increase in time spent of almost 9% according to eMarketer. Digital was the biggest gainer, with 15% increase in time spent, followed by TV's 3.4% increase. Despite the fear of a precipitous drop in Radio listening due to fewer commuters, time spent with the channel dropped only 7 minutes per day, or 7%.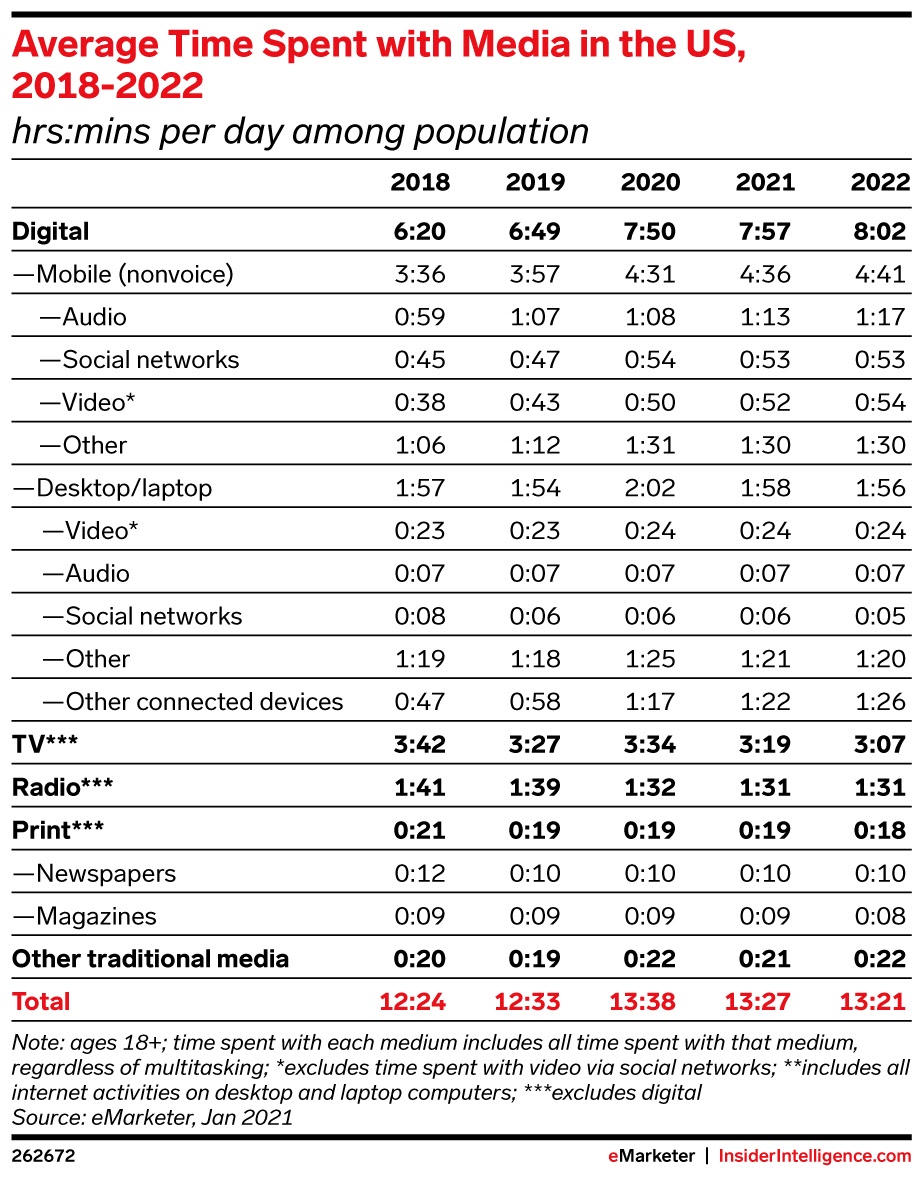 For advertisers, it is imperative to look deeper in order to focus on trends in time spent with ad-supported media. Because included in the overall time spent figures above are is time spent with non-ad-supported/customer-supported options like Netflix and HBO+.
When you drill down to ad-supported media, a different pattern emerges. According to the latest edition of PQ Media's annual Global Consumer Media Usage Forecast, time spent with media supported primarily by advertising dollars fell to its all-time low.
The time the average American spent with all forms of media rose to a collective 73 hours weekly in 2020, largely due to the impact of the global pandemic.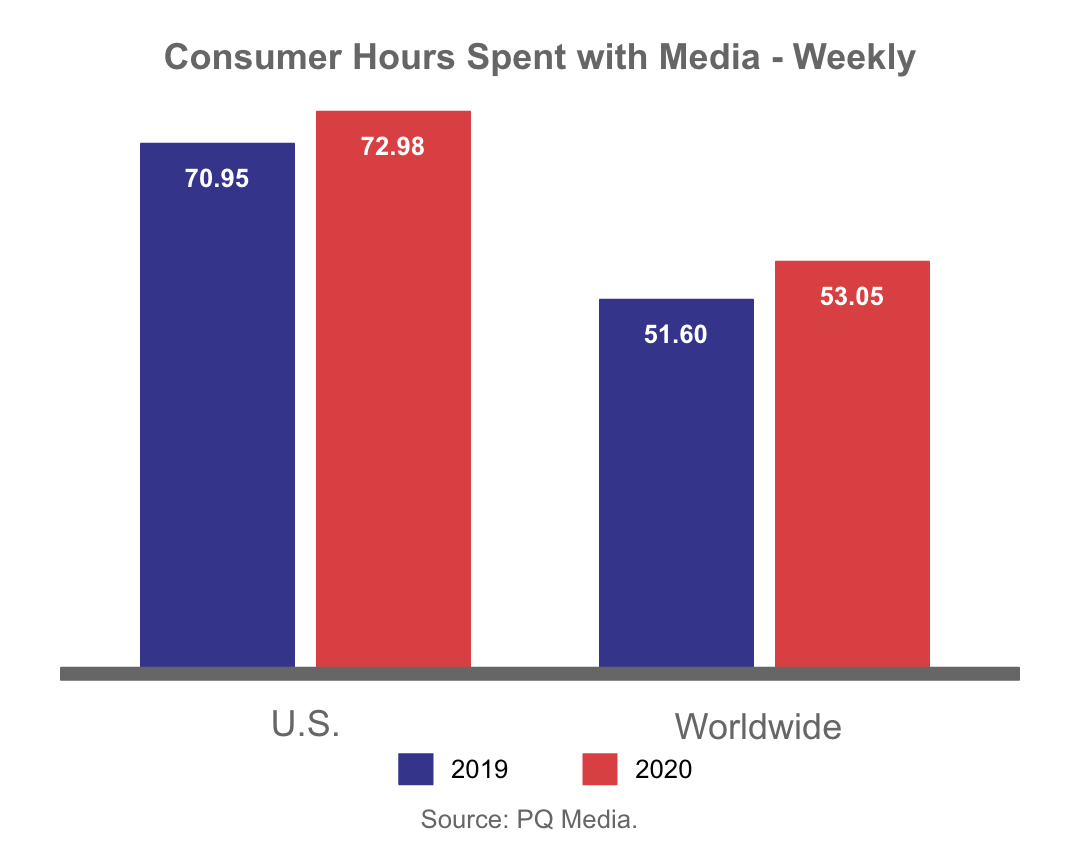 However, with the greater adoption of subscription streaming services and other consumer-supported media during 2020, the share of time spent with ad-supported media fell to 44.8% in the U.S. — an historic low since PQ Media started tracking it.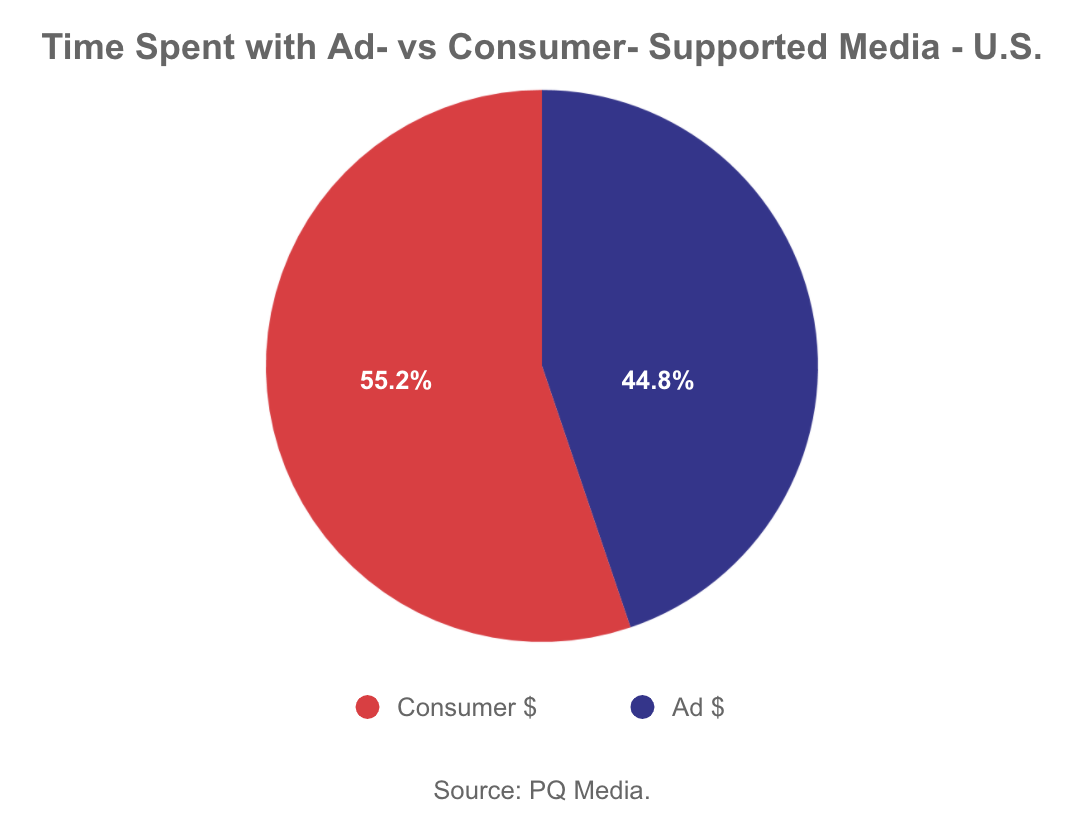 "The prime beneficiaries of this paradoxical growth surge in media usage were consumer-supported media, particularly digital video, audio, games, social media and chat services," states PQ CEO Patrick Quinn, adding: "There's no doubt that streaming media as a group were the hands-down winners in an otherwise loser of a year for many media stakeholders, particularly those dependent on advertising-driven media."
As we study changing consumer habits and look to the future, we expect that most digital categories will maintain their gains in 2021 – partially because the pandemic is not over yet and partially because of the stickiness of new consumer behaviors – but growth will slow considerably as socio-economic conditions gradually normalize. However, the 2020 gains in traditional media time spent will begin receding this year.
Time spent with digital media will continue growing beyond 2021, although increases will be modest, given how much growth was unexpectedly pulled forward into 2020.
For traditional TV, the opposite is true. While TV will still command a huge amount of time spent per day, TV's share of total time spent with media will drop below 25% for the first time. Ten years ago, that figure was nearly 40%.
Among US adults, time spent with "other connected devices"—a category including smart TVs; connected TV devices like Apple TV, Roku, and Google Chromecast; connected game consoles; and other internet-connected devices—will continue to grow.
At True Media, a thorough understanding of how our clients' customers are consuming media today and in the future enables us to create effective engagement strategies that deliver results.
Local SEO: How to be Present
Google has reported that over the last two years, mobile "open now near me" searches have increased 200%, and searches containing "buy" terms have increased over 500%. Additionally, 82% of smartphone shoppers conduct 'near me' searches and 76% of local mobile searches result in a store visit within 24 hours.
It is clear that current and potential customers are on the go, on their phone and looking for specific locations.
Local SEO is different from SEO or paid search as it is based on a unique algorithm and set of conditions. Even with a robust SEO and SEM program, there can still be gaps in the search engine results when it comes to local search.
For local information and results, Google relies primarily on information through the Google My Business platform. Apple Maps is powered by primary data partners and other third-party sites, Siri uses Google as a data source and Amazon's Alexa gets a good portion of location data from Yelp. Additionally, each of these platforms check and verify the location information with other platforms.
The foundation of local search centers on basic information: name, address, phone number and website URL. This information powers what appears in the listings, however, the NAP (name, address, phone) is only the foundation of local SEO. Additional strategies such as location information syndication across the local ecosystem, content-rich individual location pages on the website, sponsorship and links to local organizations, location-based social media and review management are all key components to the local ranking algorithm.
A local search program is no longer an option for retailers; brands that are not present online for most consumers is equal to not existing.
For more information on utilizing Local SEO in your campaigns, contact us here.
Keeping Google My Business Listings Safe From Hijackers
The issue of hijacked Google My Business (GMB) listings — when a person other than a business owner or representative gains control of the local profile — continues to grow. 
Unethical marketers are phishing through many listings in the hopes of hijacking, ultimately succeeding through using the "claim this business" or "manage this listing" link on a local profile. Clicking on this link generates an email request for control over the listing that is sent to the registered owner of the profile. Business owners that are unaware of what these emails mean could unwittingly surrender control of their business listing and find their location marked as closed, as well as other objectionable changes to their local information.
Google is aware of the growing issue and advises business owners to remain cautious. A Google spokesperson recently told Search Engine Land, "If a merchant ever receives a request to manage or to transfer ownership from an unknown person, they should decline the request.  The rights to own or manage a Business Profile can only be granted if the verified merchant accepts the request or the requester proves their affiliation with the business."
Why does it matter?
It is obvious to say that any form of false information in Google Maps and Search is not ideal for both companies or consumers. However, these phishing attempts in order to hijack Google My Business listings are significantly bad for small businesses. False online information can lead to a negative impact on sales, especially during COVID when the majority of consumers are obtaining information through a Google search.
How can you be proactive about this issue?
To start, as Google suggests, decline any request to manage or transfer ownership from an unknown person. Beyond that, this growing trend highlights the importance of a strong local SEO management program and agency partnership that can keep on top of listing status and puts your business' security first.
For more information about True Media's Google Search and Local Search marketing capabilities, contact us.
Connected TV in Your Media Strategy
As the media industry continues to be unpredictable with the disruption of COVID-19, advertisers are finding it harder to connect with their core audiences. 
Connected TV has continued to see an increase in viewership since the beginning of this year and it's expected to continue to rise while paid TV households (those with a subscription to traditional paid TV services) continue to decrease. By 2023, according to eMarketer, non-pay-tv households (cord-cutters) will hit 68.2MM users (vs 56.3 in 2021), while pay-tv households dip to 63.4 (vs 73.7 in 2021). Ad spending in this space by 2021 is showing to be $11.36 billion dollars and by 2022, $14.11 billion. 
As the incline in Connected TV users grows, advertisers should start to strategically think about how to utilize this service to its fullest potential to reach their core audiences. Knowing that a majority of the population is going to be consuming content within this format, this type of targeting should undoubtedly be a successful tactic in advertising efforts and future strategies. 
Outside of traditional video, CTV buys and layering core audiences, there are additional opportunities and publishers that you can tap into that allow for expanded advertising. Examples like VideoAmp and Tremor/Alphonso, publishers that have ACR data, allow advertisers to target audiences who have seen a competitor's TV ads and then target those users in real-time with their own advertising. Another example of expanded advertising opportunities with CTV is utilizing Origin, which is an offering within our programmatic efforts that gives you the ability to send trivia questions about your brand to your core audience as a different approach to capture consumer attention. Publishers, such as Hulu, can build out branded slates that live at the end video ads that allow for an additional call to action type of brand advertising.
When thinking about the next strategy approach for clients, it is important to include innovative ways to not just reach your audience, but also keep their attention. With the high consumption rate for Connected TV expected to continue to grow for the foreseeable future, utilizing this format could serve as an excellent solution to target your core audience.
At True Media, we will continue to utilize resources and research to help determine the best approach within this tactic to capture consumer attention and ultimately convert them to favor your brand.  For more insights on Connect TV advertising in your media strategy, contact us.
New Google Testing for Local Ad Options
Google continues to evolve with its local campaign options, which in turn continues to improve the value for advertisers. Earlier in the year Google added call clicks and driving directions as additional conversion options to original store visits. Additionally, they introduced the option of audience targeting or exclusion — a change that offered additional controls for advertisers. Most recently Google has been testing auto-suggest results within Google Maps.
On October 15, Thibault Adda tweeted that as he typed a search for "seafood restaurant" in the search bar, an ad for the seafood restaurant chain Red Lobster appeared in the auto-suggest results before his search query was even complete (see photo example).
Tests such as this are nothing new to Google, but it does seem to signal that local campaigns are now a permanent part of the Google suite of Paid Search campaign types. This is good news, as several True Media clients have already seen incredible results with local campaigns.
When examining results for Q3 year over year, one Farm and Home client saw a 1,250% increase in impressions, as well as a 86% increase in-store visits with 98% of all impressions coming from the local campaign.  Another client in the same industry saw similar results with a 2,623% increase in impressions.  Additionally, a Regional Banking client testing local campaigns saw similar results with September 2020 impressions showing a 236% increase over the previous year.
While advertisers do still need to be 'whitelisted' for Google local campaigns, retailers with physical locations who want to drive store contact via visits or calls, local campaigns can provide an unparalleled opportunity for brand reach and exposure.
For more information on implementing Local Search Campaigns in your media strategy, contact us.