Introducing PPM Wearables: An Enhancement in Measurement from Nielsen
Nielsen recently announced another improvement in its ability to collect local broadcast viewing and listening data. The rollout of PPM Wearables will certainly add an additional layer of accurate measurement to its toolbox of data collection methods. As Nielsen looks to increase sample size and accuracy while reducing its reliance on often unreliable or inaccurate diaries, it hopes to grow advertisers and agencies' confidence in its ability to accurately measure exposure across platforms.
For years, advertisers and agencies have relied almost exclusively on Nielsen data to analyze and forecast national and local viewing ratings. Nielsen's audience measurement began with diaries – actively filled out by panelists across the country – to collect reported viewing data. In 1986, Nielsen developed the People Meter to electronically and passively – and more accurately – collect exposure to TV and radio broadcasts. The People Meter revolutionized the television industry – suddenly "overnight ratings" were available, allowing advertisers a glimpse of viewership almost in real-time versus weeks or months later. Then in 2007, Nielsen announced new Portable People Meters (PPMs) intended to further improve accuracy in measurement at the individual person level.
PPMs operate with encoding that picks up the electronic signals of stations within earshot (what the individual participant is likely listening to or viewing) making it a more reliable source. Interestingly, the introduction of PPMs resulted in a general decline in reported viewing/listening likely due to greater accuracy.
Now, Nielsen has enhanced the Portable People Meter – introducing PPM Wearables.
According to Nielsen, PPM Wearables are the next frontier of audience measurement and a key component of cross platform measurement. The rollout of the PPM Wearables began in late April/May in 47 radio metros and as of early June, approximately 6,500 PPM Wearables have been installed. By the end of 2022, Nielsen expects 50-75% wearables to be in the panel.
PPM Wearables have a smaller, updated design that is more aligned with current wearable technology trends. They aren't connected smart watches – they're designed specifically for accurate reporting of viewing and listening data – but the new designs are easy to wear and carry, making them more appealing to challenging demographics. The PPM Wearable includes multiple carry options including a wristband, clip and pendant.
What does all this mean? 
It means Nielsen is heading deeper into development technology that will help build a single panel with more cross platform measurement data. Nielsen's competition (ispot, VideoAmp, Comscore, Google etc.) are also working to have the most accurate and efficient technology/methodology for audience measurement.  And all (Nielsen included) wanting to achieve MRC Accreditation so that advertisers and agencies trust the data. Advertisers and agencies like True Media are anxious to figure out which measurement system, or combination of systems, will rise to the top in quality and efficiency across platforms. In the meantime, PPM Wearables trendy look and ease of use should entice more panelists to participate, and ultimately result in more accuracy in reporting listenership/viewership for TV and radio. And perhaps other channels in the future.
Big Changes for Nielsen Local TV: Impressions vs Ratings
In January 2022, the Local TV industry begins the long-awaited currency shift from ratings to impressions. Several factors have led to this change:
The recent explosion of video delivery platforms to the TV screen
Nielsen's change in local television universes to include broadband-only homes (BBO) in metered markets to be more inclusive of viewers from various TV sources
The industry's desire to transact local TV on a cost-per-thousand impressions (CPMs) basis – a metric already utilized in most other traditional and digital channels
Large station ownership groups have announced the formal change from ratings to impressions on the sell side beginning in January, and will guarantee delivery based on impressions only.
Nielsen announced recently that it will take the lead on an "Impressions First Initiative" to support an industry-wide move to impressions-based buying and selling in local markets across the country. The move to impressions will occur in conjunction with the integration of broadband only homes (BBO) into Nielsen's local measurement metrics in January 2022. The move to an impressions-based currency will deliver a more complete, precise and representative audience measurement, along with the added benefit of enabling cross-platform audience measurement. In today's fragmented media landscape, the move to impressions lays the groundwork for implementing Nielsen ONE across local, national, and digital measurement.
The inclusion of BBO homes will enable the industry to rapidly transition to trading on impressions. Impressions represent all viewers regardless of platform—which is especially important given the significant and growing penetration of BBO homes in local markets. For more than two years, Nielsen has been working with the media and advertising industries in preparation for the inclusion of broadband-only homes in Local TV measurement for its 56 LPM and Set Meter markets.
DEFINITION: A Broadband-Only (BBO) home has at least one TV set able to deliver streaming video from an internet source, with no TV sets able to receive a channel from a traditional cable, satellite, or over-the-air source.
What does this mean for you?
Throughout time, local broadcast ratings have provided a consistent measure of advertising exposure across markets with different universes/populations. Moving forward, impressions will reflect potential exposure in terms of viewers rather than a percentage of viewers. Our Activation Strategists will still be able to look at reach metrics to ensure consistency by market.
The Client and Activation Strategy teams at True Media are working together to provide clients with an understanding of the impact of these changes. For clients with a history of ratings-based planning and buying in local markets we will still be able to convert impressions to ratings. However with this change in the local TV universes to include BBO homes, post-change ratings will not be comparable to today's ratings. Likewise, historical CPPs will not apply to future planning. All negotiations and guarantees will be based on impressions moving forward.
Time Spent with Media Still on the Rise
As we have all seen over the course of the past year, the pandemic and subsequent stay-at-home orders and work-from-home opportunities accelerated the pace of change in consumer media habits.
Overall, Americans ended up spending 13:38 daily watching screens, listening to audio content, or reading traditional print news in 2020, an increase in time spent of almost 9% according to eMarketer. Digital was the biggest gainer, with 15% increase in time spent, followed by TV's 3.4% increase. Despite the fear of a precipitous drop in Radio listening due to fewer commuters, time spent with the channel dropped only 7 minutes per day, or 7%.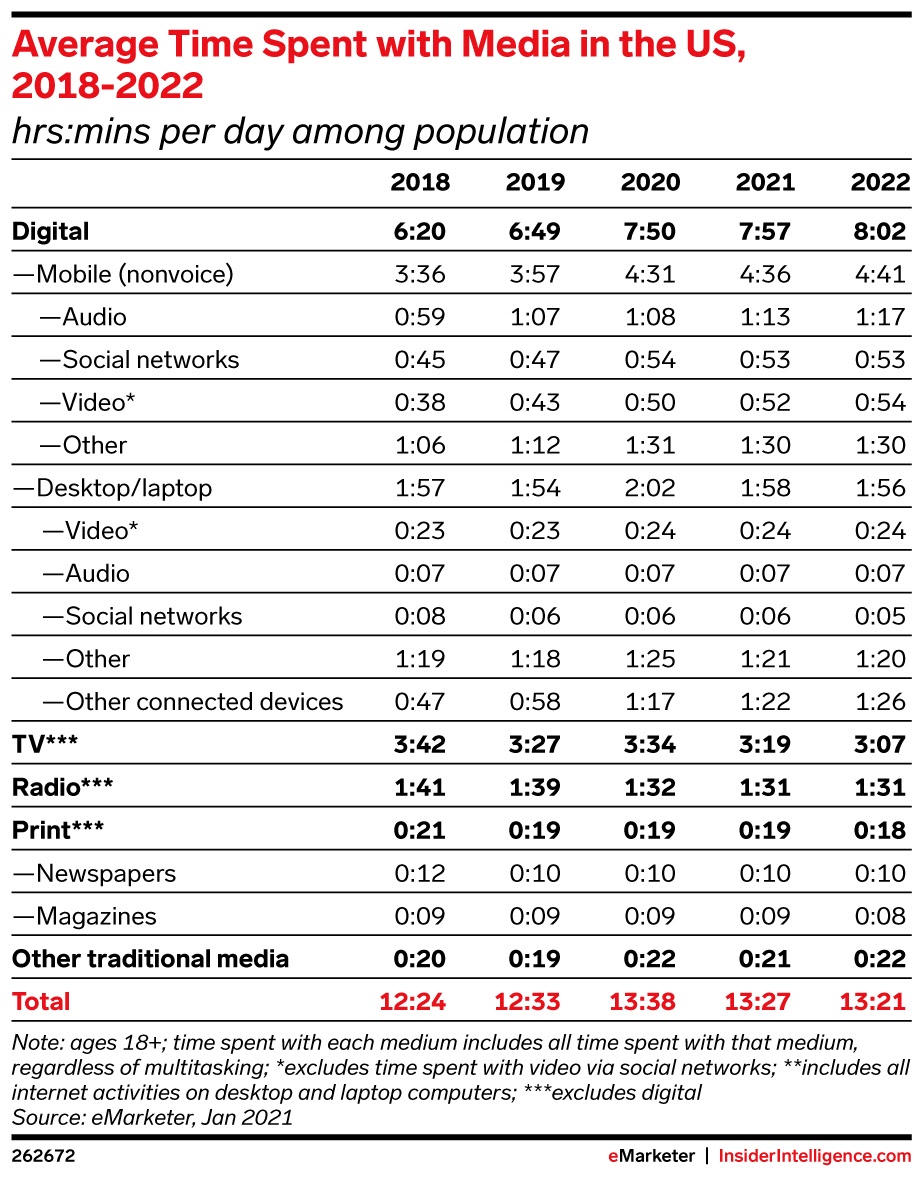 For advertisers, it is imperative to look deeper in order to focus on trends in time spent with ad-supported media. Because included in the overall time spent figures above are is time spent with non-ad-supported/customer-supported options like Netflix and HBO+.
When you drill down to ad-supported media, a different pattern emerges. According to the latest edition of PQ Media's annual Global Consumer Media Usage Forecast, time spent with media supported primarily by advertising dollars fell to its all-time low.
The time the average American spent with all forms of media rose to a collective 73 hours weekly in 2020, largely due to the impact of the global pandemic.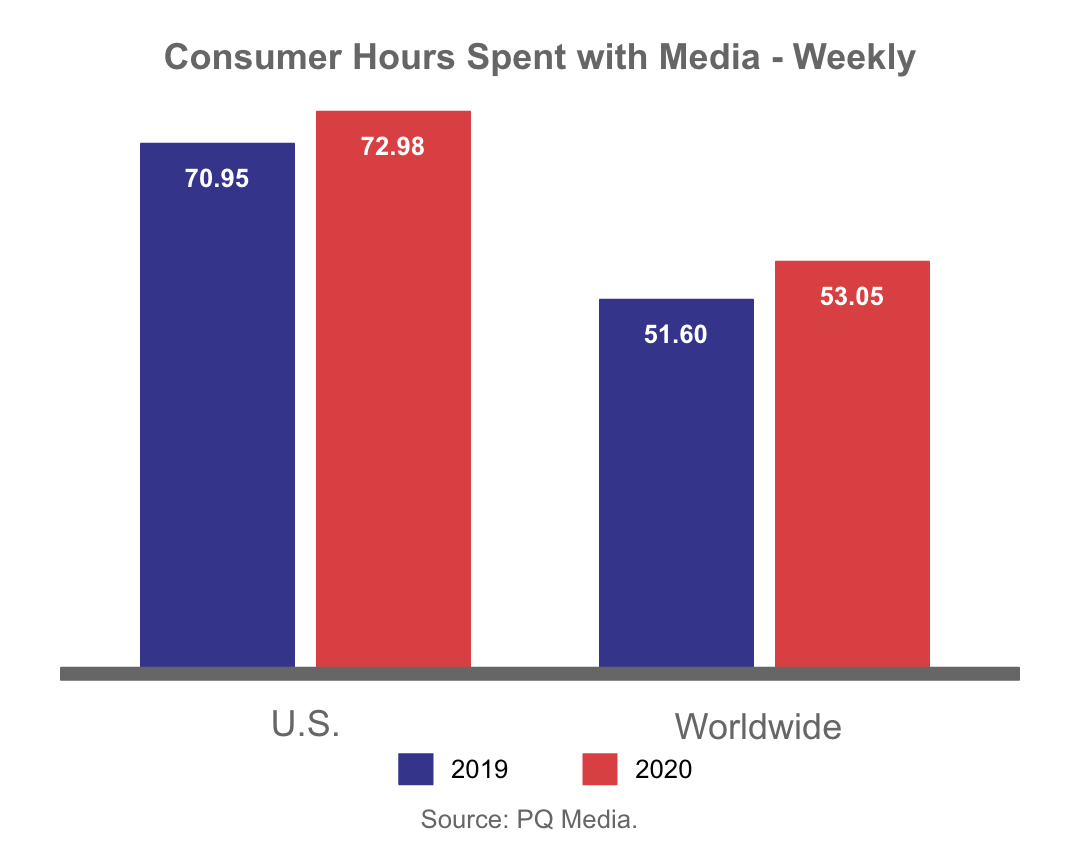 However, with the greater adoption of subscription streaming services and other consumer-supported media during 2020, the share of time spent with ad-supported media fell to 44.8% in the U.S. — an historic low since PQ Media started tracking it.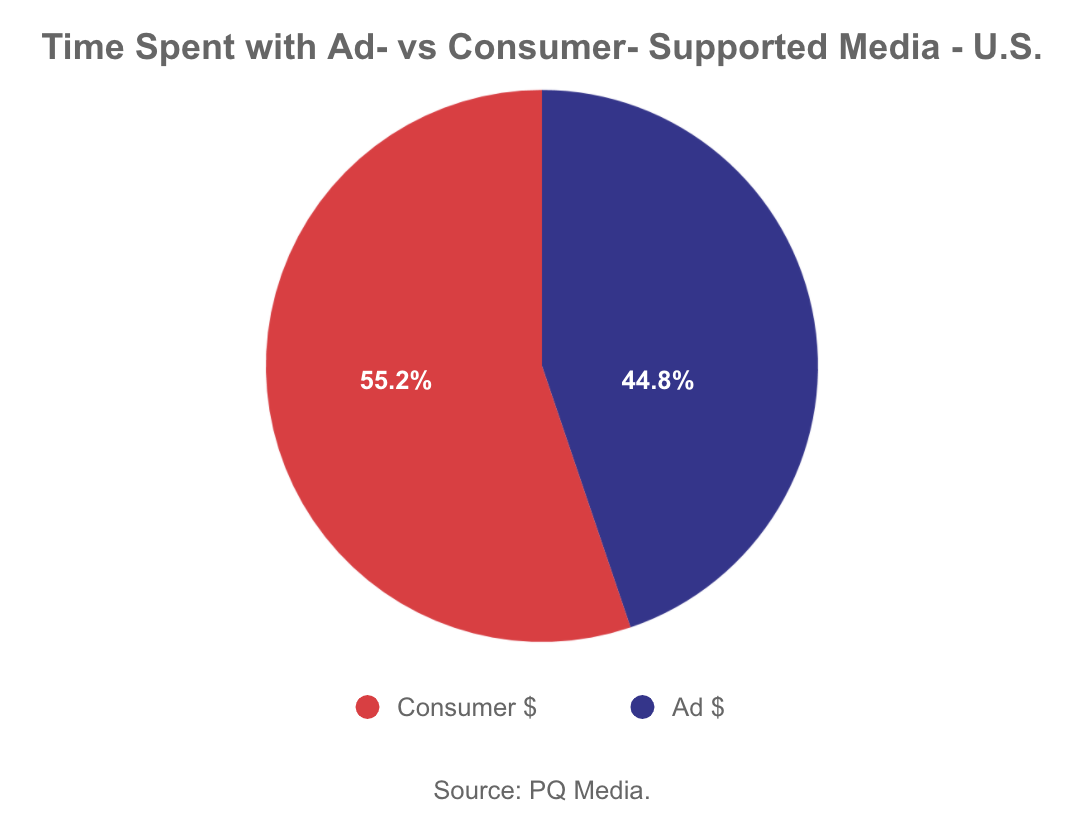 "The prime beneficiaries of this paradoxical growth surge in media usage were consumer-supported media, particularly digital video, audio, games, social media and chat services," states PQ CEO Patrick Quinn, adding: "There's no doubt that streaming media as a group were the hands-down winners in an otherwise loser of a year for many media stakeholders, particularly those dependent on advertising-driven media."
As we study changing consumer habits and look to the future, we expect that most digital categories will maintain their gains in 2021 – partially because the pandemic is not over yet and partially because of the stickiness of new consumer behaviors – but growth will slow considerably as socio-economic conditions gradually normalize. However, the 2020 gains in traditional media time spent will begin receding this year.
Time spent with digital media will continue growing beyond 2021, although increases will be modest, given how much growth was unexpectedly pulled forward into 2020.
For traditional TV, the opposite is true. While TV will still command a huge amount of time spent per day, TV's share of total time spent with media will drop below 25% for the first time. Ten years ago, that figure was nearly 40%.
Among US adults, time spent with "other connected devices"—a category including smart TVs; connected TV devices like Apple TV, Roku, and Google Chromecast; connected game consoles; and other internet-connected devices—will continue to grow.
At True Media, a thorough understanding of how our clients' customers are consuming media today and in the future enables us to create effective engagement strategies that deliver results.
Video Trends and COVID-19
Over the past few weeks as workers across the United States have settled into new routines, social distancing and working from their kitchens, dens, basements, and even bathrooms, we have seen a dramatic shift in media consumption and habits.
Americans are searching for news and coronavirus information, homeschooling tips, and 'drive-by baby shower ideas.'
Publisher paywalls are coming down in order to provide greater access to COVID information.
Out of home viewing has declined significantly as commuting and shopping ground to a halt.
Online shopping for grocery items and household essentials is overwhelming websites and causing delays.
Americans at home are spending significantly more time with their TVs and connected devices — from local news to Netflix binging.
Interestingly, linear TV viewing is slightly down in the early morning hours, as workers may be sleeping a little later since they don't have to commute. But by 8am, TV sets are on and stay on throughout the day. Local News is an important source of information for Americans, and connected TVs are a fast growing source of entertainment for viewers of all ages.
While we all wait for the COVID-curve to flatten, we are starting to see a flattening of the curve when it comes to video viewing. Americans have adjusted to work-from-home settings and have settled into new routines. The week that ended on March 29 shows that the rapid growth in total television viewing over the past 5 weeks has slowed. Only a week before, week-over-week increased in double digits — ranging from +12% to +42% across different demos. The following week flattened out across the board for most components of TV usage.
The current, higher levels of television usage is expected hold throughout the mandatory shelter-at-home period, and we anticipate that some of these trends may have an effect beyond the pandemic. Streaming services were in a growth mode before, and will likely benefit more in the future. There are still a lot of original programs left to binge on Netflix. YouTube continues to grow. And new services are challenging the established brands. For example, Quibi launched with a 90-day free trial, adding yet another option to the menu.
When the recovery begins, certain COVID-influenced behaviors will likely remain. People may be wary of returning to the office, large crowds, subways, sporting events, and concerts. There will be a continued need for information. According to recent research from GlobalWebindex, many people say they will continue to consume video much like they are today.
Marketers, particularly those that have halted or cut ad spending during this crisis, will need to look at the new consumption patterns and engage with their consumers accordingly.
---
As SVP Activation Strategy, Vaughn provides strategic direction to our agency, playing a crucial role in planning for the future growth of the agency, including molding and training activation teams. He understands the correlation between brand, content, and channel to drive incremental, measurable results. His background in media strategy from start to finish allows him to lead his team in focusing on the acquisition of the most efficient, relevant, engaging and effective media touchpoints for client media plans, while always looking for innovative solutions along the way.
Are We Ready for a Seismic Shift in Local TV?
For the most part, Local TV advertising continues to be transacted on CPPs and GRPs — a holdout from the early days of Nielsen's demo-based ratings measurement and buying currency. While ratings and GRPs do, in fact, provide a measurement that equalizes the planned and reported exposure across markets with differing populations and universes, local TV is starting to incorporate the same type of currency National TV and many digital channels have been transacting on for year — impression-based currency. 
This impressions-based approach, coupled with data-centric targeting, is smarter in today's media environment and landscape. Looking at impressions in Local TV allows advertisers to include more relevant programs with smaller audiences, akin to relevant long-tail websites and hyper-targeted content. It allows marketers to incorporate streaming, digital and mobile viewing with traditional linear broadcast tune-in. 
While strategic planning and buying across all screens – using data to identify viewing audiences – is the right thing to do, the industry is struggling to wrap it up into a tidy package. At the recent Digiday Video Summit, attendees agreed that there are several hurdles to overcome. Measurement, accessible inventory, available data and privacy regulations are common obstacles that get in the way of progress.
But that shouldn't stop the industry from pushing forward, challenging the norm and finding solutions. 
At True Media, we are creating a shift in our mindset and adjusting our structure to align our processes with today's viewing behaviors and consumers' engagement with video content across all screens. Adopting an impressions-based approach in Local TV, and creating cross-channel strategies that incorporate all targeted viewing opportunities are just some of the ways we are innovating to deliver measurable results for our clients.