Time Spent with Media Still on the Rise
Posted on February 8th, 2021 by Vaughn Ericson
As we have all seen over the course of the past year, the pandemic and subsequent stay-at-home orders and work-from-home opportunities accelerated the pace of change in consumer media habits.
Overall, Americans ended up spending 13:38 daily watching screens, listening to audio content, or reading traditional print news in 2020, an increase in time spent of almost 9% according to eMarketer. Digital was the biggest gainer, with 15% increase in time spent, followed by TV's 3.4% increase. Despite the fear of a precipitous drop in Radio listening due to fewer commuters, time spent with the channel dropped only 7 minutes per day, or 7%.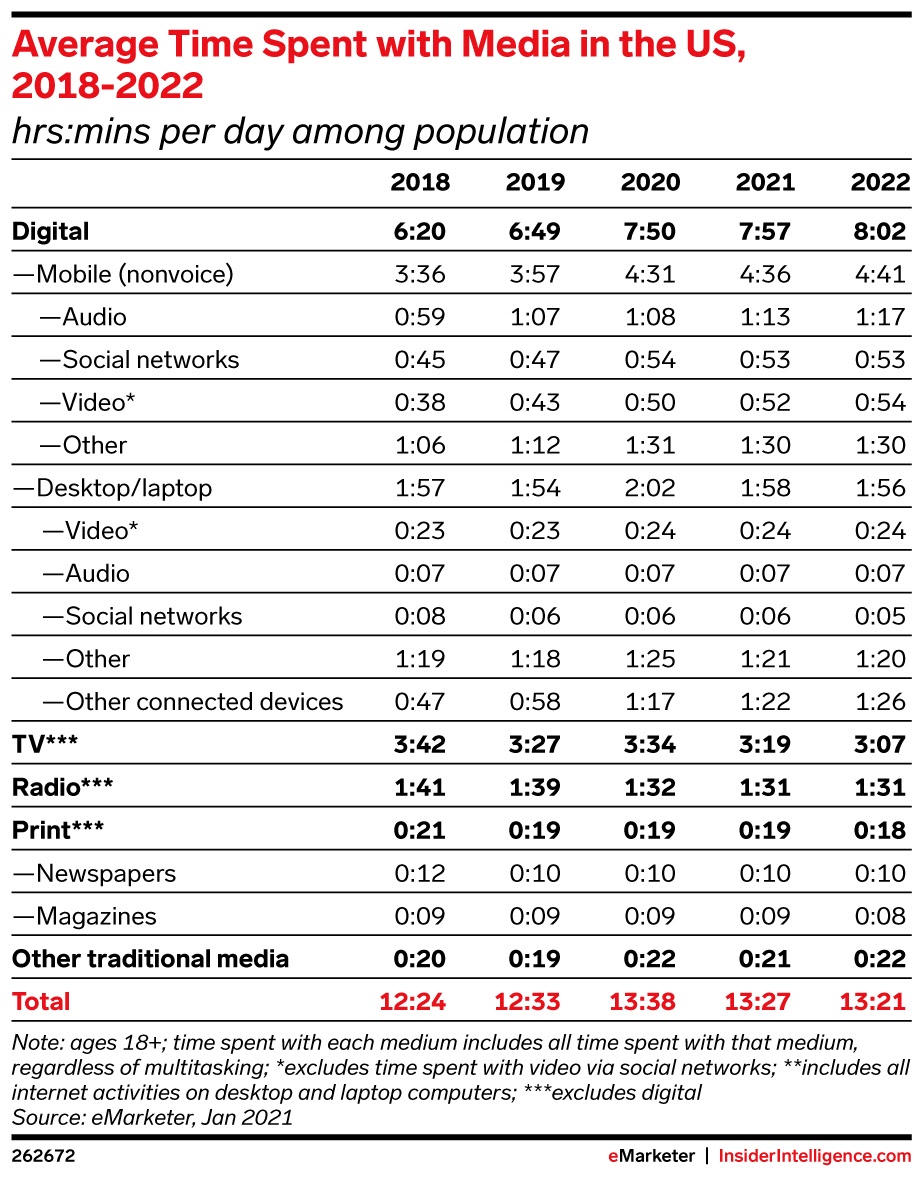 For advertisers, it is imperative to look deeper in order to focus on trends in time spent with ad-supported media. Because included in the overall time spent figures above are is time spent with non-ad-supported/customer-supported options like Netflix and HBO+.
When you drill down to ad-supported media, a different pattern emerges. According to the latest edition of PQ Media's annual Global Consumer Media Usage Forecast, time spent with media supported primarily by advertising dollars fell to its all-time low.
The time the average American spent with all forms of media rose to a collective 73 hours weekly in 2020, largely due to the impact of the global pandemic.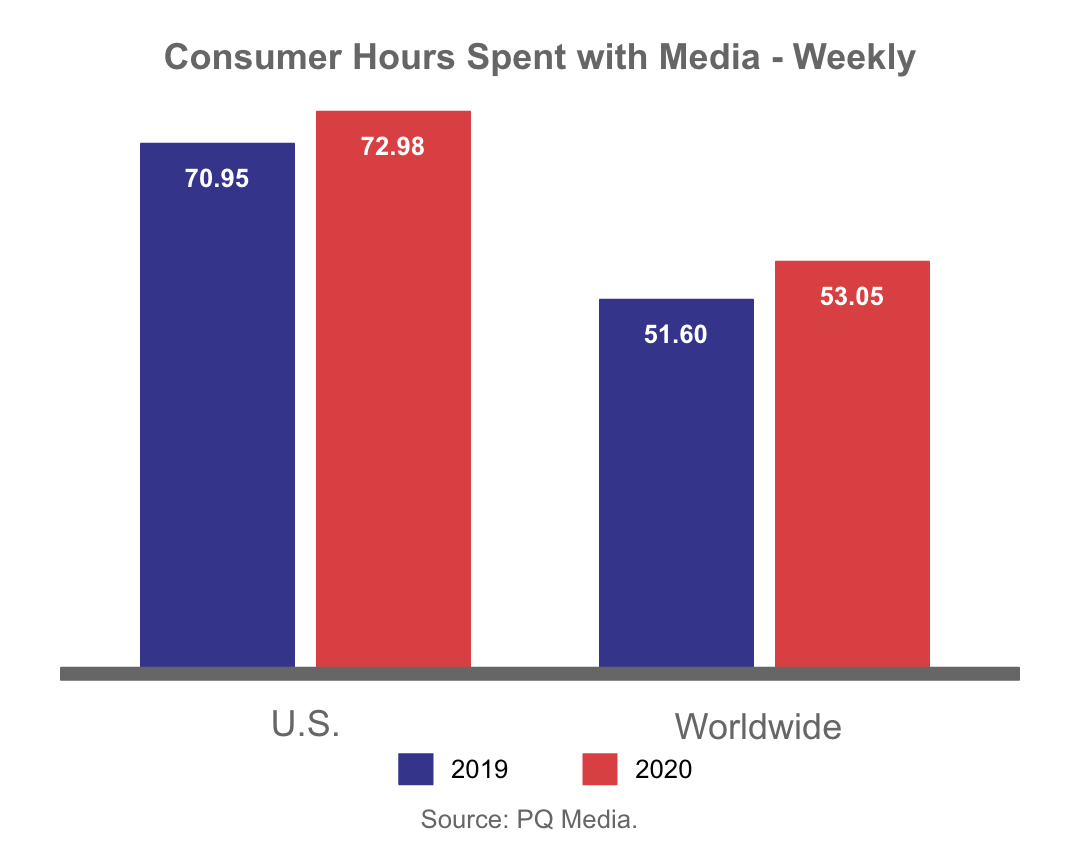 However, with the greater adoption of subscription streaming services and other consumer-supported media during 2020, the share of time spent with ad-supported media fell to 44.8% in the U.S. — an historic low since PQ Media started tracking it.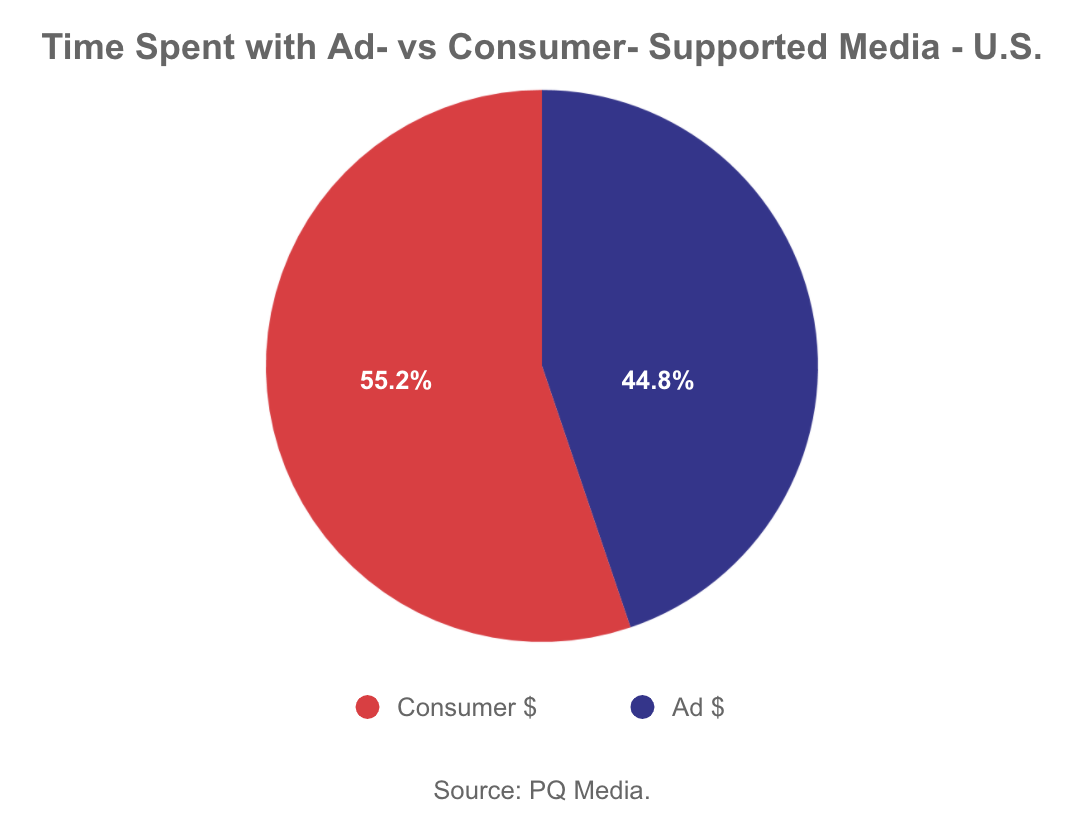 "The prime beneficiaries of this paradoxical growth surge in media usage were consumer-supported media, particularly digital video, audio, games, social media and chat services," states PQ CEO Patrick Quinn, adding: "There's no doubt that streaming media as a group were the hands-down winners in an otherwise loser of a year for many media stakeholders, particularly those dependent on advertising-driven media."
As we study changing consumer habits and look to the future, we expect that most digital categories will maintain their gains in 2021 – partially because the pandemic is not over yet and partially because of the stickiness of new consumer behaviors – but growth will slow considerably as socio-economic conditions gradually normalize. However, the 2020 gains in traditional media time spent will begin receding this year.
Time spent with digital media will continue growing beyond 2021, although increases will be modest, given how much growth was unexpectedly pulled forward into 2020.
For traditional TV, the opposite is true. While TV will still command a huge amount of time spent per day, TV's share of total time spent with media will drop below 25% for the first time. Ten years ago, that figure was nearly 40%.
Among US adults, time spent with "other connected devices"—a category including smart TVs; connected TV devices like Apple TV, Roku, and Google Chromecast; connected game consoles; and other internet-connected devices—will continue to grow.
At True Media, a thorough understanding of how our clients' customers are consuming media today and in the future enables us to create effective engagement strategies that deliver results.